Spoil your Mum this Mother's Day!
Mother's Day is just around the corner, and is an important day to celebrate the special woman that has raised you (and put up with you and the family's shenanigans). She deserves a medal really! Show her how much you appreciate and care for her with a special Mother's Day themed activity in Mandurah.
Explore what's on offer and design a day (or whole weekend!) catered to what she enjoys. Make this Mother's Day memorable.
Treat Mum to a family picnic and her favourite bottle of wine – May 8th Peel Estate Wines is hosting a glorious day in the countryside with music, food and most importantly… wine!
Get the family together, bring along your camper chairs and picnic rug and prepare for a beautiful day in the country at Peel Estate Wines. 
Enjoy the glorious serenity with an acoustic performance by Glen Ridgwell, delicious food trucks, a stunning naturescape and cellar door wine tastings. 
Tickets are now available for pre-purchase until 5PM Saturday 7th May. To avoid disappointment, book your spot now as there are number restrictions. 
The winery will be open from 10am, with food and music from 12 – 3pm. 
The event is strictly no BYO ALCOHOL. But not to worry, Peel Estate Wines will be serving cellar door tastings as well as wine and beer and cider sales the whole day.
Be the favourite child, book Mum an impressive dining experience at Flic's Kitchen.
This Mother's Day the team have curated an impressive 5 Course Degustation (plus a glass of bubbles for the special woman) to celebrate Mum. 
Flic's Kitchen never fails to push culinary boundaries and deliver flavour-packed meals for lunch and dinner. Without question the degustation will deliver an unforgettable dining experience that will leave Mum feeling impressed and spoiled. Book your table for lunch from 11am or dinner from 5pm on 8th May.
Mum works hard, it's only fair she parties hard too! 
Celebrate the leading lady in your life with Catch 22's Bottomless Brunch. 
Hosted on Mother's Day (Sunday, 8th May – for those who need the reminder) from 9am – 11.30am it's the perfect way to make Mum feel like the priority. 
There's nothing quite like enjoying good food alongside endless mimosas (or should we say MUMosas) with the family. Plus, at the affordable price of $70pp and $10 for bottomless mimosas – you can't go wrong. 
Trust us, you'll want to book in this brunch sooner rather than later. We're expecting this event  to sell out quickly! 
Just imagine looking over the picturesque waters of the Dolphin Quay Marina, enjoying high quality fresh seafood, sipping on champagne and doing a cheers for Mum for being the legend she is! 
Make this dream come true with Oceanic Bar and Grill. 
Oceanic Bar and Grill is Mandurah's Premier Waterfront Tavern, a trusty location for locals and visitors alike. If you're on the hunt for a reliable and impressive dining location, Oceanic is guaranteed to satisfy. 
Open 11am – late over the Mother's Day weekend, it's the perfect way to show Mum how much you appreciate her. 
Red Manna is Mandurah's most awarded Seafood Restaurant, here to deliver the best dining experience for you and your Mum this Mother's Day. 
Red Manna have created a 4 course mini degustation menu especially for Mother's Day with a complimentary glass of sparkling for the special woman upon arrival. 
Situated right on the water's edge of the Eastern foreshore near the Old Bridge, it's one of the best views in Mandurah. Indulge in Red Manna's signature seafood dishes, sip on a glass of wine and soak up the breathtaking views. 
Bookings are a must! Red Manna book out every year. Make sure Mum doesn't miss out – book your table ASAP.
Mother's Day is the best excuse to enjoy a fancy cocktail at any hour of the day, including breakfast! 
The Pen Mandurah are getting the party started early with two events running over the day. 
For those Morning Mummas
From as early as 9am, enjoy a Pink Lemonade pitcher for the table, a sparkling Peach Bellini cocktail especially for Mum as well as delicious brunch menu options. Cocktail for breakfast? Why not!
$40pp
$12 kids food options
For the Late Lunchers
Let Mum sleep in and then stroll down to The Peninsula for a glamorous 3 course menu. Seating available 2 – 2.30pm, bookings are essential and prepaid. Call the restaurant to book your table (08) 9534 9899.
$65pp
Nothing quite says "class" than a booking for High Tea.
Especially when that high tea is hosted at the newest and hottest venue in Mandurah. 
Boardwalk at DQ might be the new kids on the block, but the restaurant and bar has already built a reputation for good food, yummy cocktails and great service. 
Located within the Ocean Marina, the menu takes into consideration the seaside location as well as the love for fresh and local produce.
Boardwalk at DQ is stirring attention with the announcement of their first ever high tea this Mother's Day. Hosted in the afternoon from 2.30pm – 5.00pm. Bookings are essential as spots are limited.
Has your Mum got an appetite for adventure? You'll want to book in one of the fun Boat Tours hosted right here in Mandurah!
Beautiful sea air, relaxing sounds of the water rippling and glorious views of the wide open water. Mandurah's selection of boat tours offer an exciting experience for the entire family. 
Find the bout tour that caters specifically to your Mum's tastes. Choose from the Dolphin & Scenic Marine Cruises, Murray River Lunch Cruise, Sunset Cruise or even the High Tea Cruise. 
Mandurah Boat Charters allows you to even rent out your own boat and go on your own adventure with your very own skipper. Sit back and relax with Mum and the family as the skipper takes you on a trip around along the waterways. 
Pick out which boat tour your Mum will enjoy most and create a thoughtful day dedicated to her! 
On your itinerary for Mother's Day make sure to stop by the Mandjar Markets! Spoil her with a thoughtful gift from one of the local artisans. 
Located on the Eastern Foreshore with spectacular views of the Peel Inlet, it's a beautiful spot to go for a stroll and peruse the delicacies from local producers. 
Browse stalls of handmade jewellery, locally made clothing, professional photography portraits, honey producers and lots of yummy foods!
Kick off Mother's Day celebrations on the Saturday with the Peel Produce Markets!
With fresh farm meat, organic herbal teas, fruit & veggie boxes, free range eggs, healthy juices and more – it's a great family day out! 
From 8:00am – 1:00pm wander down to Leprechaun Park at Dawesville Foreshore and you'll find the stalls lined up.
Looking for a cheaper option? Check out the free guided Mandurah Walking Tours. 
Discover Mandurah's beauty on this free guided walking tour.  
Departing from the Mandurah Visitor center at 9.30am on Sunday, take a stroll (approximately 2km) for 1.5hours around Mandjar Bay and the Eastern Foreshore. 
Walk along Mandurah's waterways with your Mum and family. It's a wholesome activity that really makes you appreciate the area. Soak up the sun, enjoy the ocean breeze and grab Mum some Mother's Day candy at the final stop Whizz Pop Candy Shop. 
Book online here or give Mandurah Visitor Center a call on (08) 9550 3999.
Salt and Bush are also offering an exciting walking tour on Mother's Day!
Salt and Bush are a fantastic business in Mandurah who are dedicated to showing off Mandurah's hidden natural treasures. From the bushland to the waterways discover the spectacular biodiversity hidden in the Mandurah region. 
They have a great selection of different tours catering to different interests. Recently, they released their highly demanded Paddle Pint and Pub Tour… and guess what!? There's one on Mother's Day! 
Nature (tick)

Exercise (tick)

Adventure (tick)

Family bonding (tick)

Refreshing drinks  (tick)

Kid friendly (tick again)
Treat Mum to an action-packed day on Mother's Day!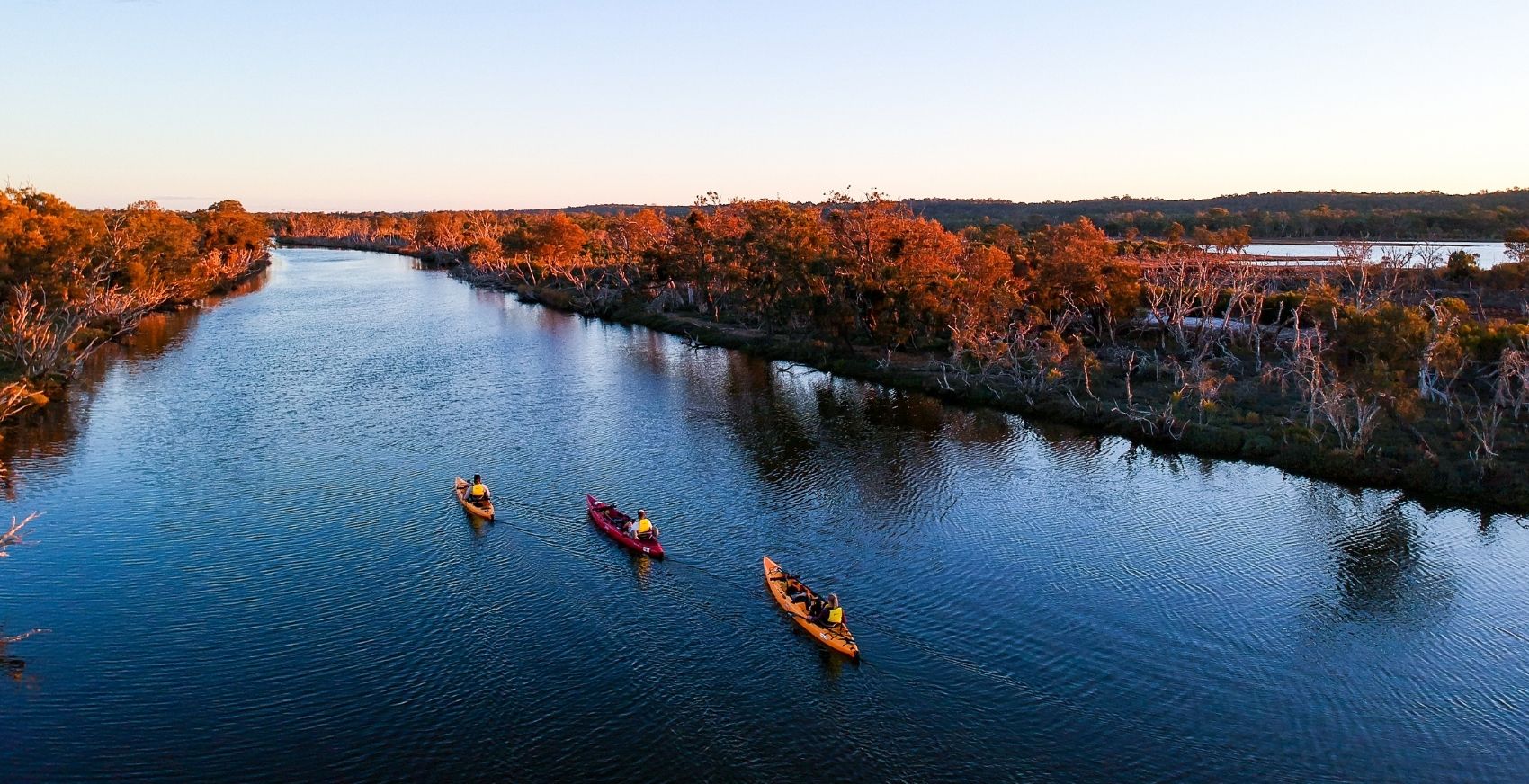 Manpac and Whiskey & Boots presents Mama Stitch – a unique storytelling experience that celebrates all things Mum (the perfections and imperfections). 
A diverse selection of people from the Mandurah community have been interviewed for this screening. The interviews are filmed, edited and presented in the unique form of "Headphone Verbatim," which means the actor wears headphones and delivers as they hear them without filtering… so watch out kiddos, this may include adult themes. 
Join us for this intimate, welcoming, creative and warming experience that is guaranteed to offer some meaningful reflection as well as a few chuckles. 
Tickets available for 7th and 8th May at 5.00pm for $25. Book now!
With so many fun-filled activities happening on Mother's Day, you'll be spoiled for choices on how to spoil Mum! 
This year, make Mum feel special by organising a day dedicated to her. She deserves it.