Keep your kids entertained
these school holidays
Give your kids the opportunity to make new friends, learn new skills and have adventures over the school holidays.
You can keep your kids entertained with a number of attractions in Mandurah and fun things to do within the Peel region.
Giants of Mandurah
Come and see this iconic series of Thomas Dambo's larger-than-life wooden sculptures make a home for themselves amongst picturesque, secret locations throughout Mandurah. The Giants of Mandurah is a free to view, outdoor exhibition that is a celebration of the unique diversity, extraordinary beauty and timely reminder of just how important it is to protect our natural environments such as Mandurah's globally significant Ramsar-listed wetlands, unique waterways, bushland and wildlife!
If you prefer to have some company and a little help when going on your Giant hunt, book a guided Giant tour. There are guided e-bike, boat and coach tours to choose from.
Entertain the Kids on a Cruise
Exploring Mandurah isn't half as fun unless you heard out on a boat cruise. Join a cruise with Mandurah Cruises and learn all about the marine environment.
Take the family on a fun-filled adventure. Meet Mandurah's playful wild dolphins, spot pelicans, ospreys & swans on the wetlands and explore the city's illustrious canals and marina. Kids, help the Captain drive from the junior captain's helm! And adults, help yourself to FREE coffee & tea.
The Dolphin Cruise & Views departs daily at 11:30 am and 1:30 pm. Family passes are $79, and come with a guarantee – if you don't see a dolphin on your trip you can come back any time in the next year for free!
AHOY there, me hearties! What's this? Pirates in Mandurah? Join 'Pete Blackbeard' and his buckos at Pirate Ship Mandurah for a fun day out on the water. It's an open air vessel where kids can dress as pirates, steer the wheel, ring the bell and look through telescopes. It's pirate role playing at its best.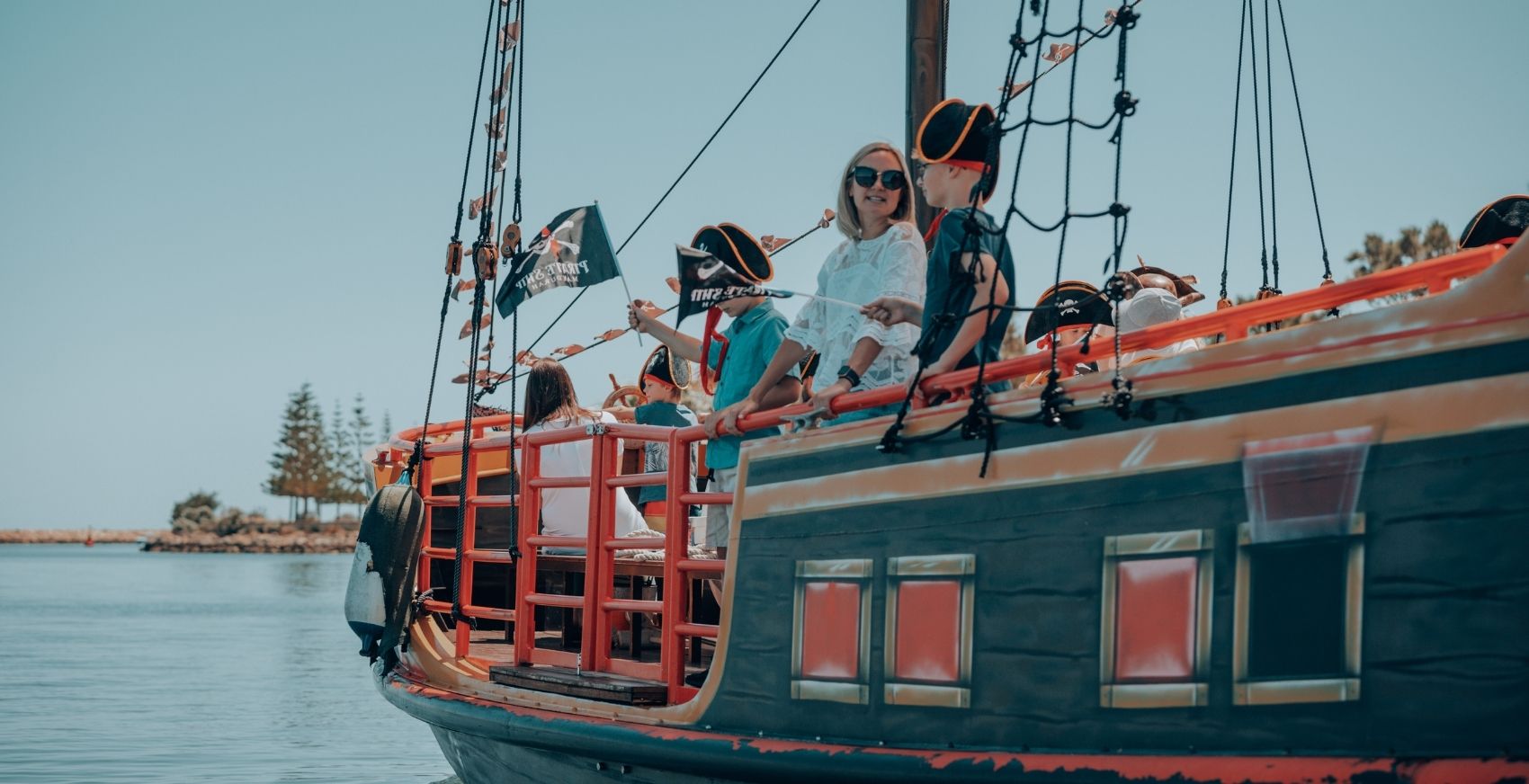 The whole family will have a ball on this relaxed 2 hour cruise with Soulmate Charters where you will not only explore Mandurah's waterways but can also enjoy a swim or float in a blow-up lounge. Try your hand at stand-up paddle boarding or just sit back and relax.
Float your boat in Mandurah
Mandurah is best explored by boat. If you don't have your own one, you can hire a boat or  explore at a slightly slower pace by paddleboard or kayak in Mandurah.
Or dip your toes in Mandurah's magnificent new estuary pool on a sunny day, any time of the year. Named Kwillena (dolphin) Gabi (waters) by the traditional owners of Bindjareb Boodja, this natural waterway shares its habitat with local marine life.
Explore on an e-scooter or e-bike
Mountain biking and cycling are a great and easy way to get out and explore with kids. Mandurah has good cycle paths around the city centre, marina and along the coast. You can enjoy the effortless experience of an e-bike or e-scooter with The Bike Kiosk, located next to the Mandurah Visitor Centre.
There are also family-friendly forest cycle trails throughout the region and don't forget the Munda Biddi Trail, a world-class off-road cycling track, running through Dwellingup.
Explore the wetlands
As soon as you arrive in Mandurah, you feel relaxed and get this instant holiday feeling. Why? Because in Mandurah, we're relaxed by nature.
Mandurah is like an outdoor classroom where you can learn about the incredible, internationally significant Peel Yalgorup Wetlands System and the wildlife on guided nature walks and even nocturnal bush walk tours with Salt & Bush Eco Tours.
This is literally your golden opportunity to immerse yourself in nature because Salt and Bush Eco Tours owner and tour guide Jamie van Jones was named 'Australia's best tour guide' at the 2022 Australian Top Tourism Awards held in Canberra.
Visit the 2,000 year old Lake Clifton thrombolite reef at Yalgorup National Park which can only be found in a few places in the world! Mandurah has many bird visitors too as it is considered one of the few locations in Australia chosen as a rest stop for migratory birds.
Amaze Miniature Park
Appeasing the imaginations of those big and small, there are 70 adorable miniature buildings and model trains at Amaze Miniature Park. It is set among four acres of beautifully manicured gardens along with mini golf, a hedge maze and a playground.
Tourist Fun Train
They may be child-sized, but they sure have big hearts – Mini Toot, the friendly miniature train runs along Mandurah's Eastern Foreshore – and the Big Toot is a hop on/hop off tour for all ages. These two are owned by the Mandurah Tourist Fun Train Company and is a fun way to tour Mandurah. You can purchase tickets at the Mandurah Visitor Centre or when boarding the train.
Be a zookeeper for a day
Are your children wildlife enthusiasts? Great, did you know they can be a professional zookeeper for a day at Ranger Red's Zoo and experience first-hand handling and feeding the animals? They will learn how over 100 species of birds and animals are cared for and get up close to Tasmanian Devils, koalas, kangaroos, snakes, ferrets, lizards and a variety of bird species. Learn more about the Zookeeper 4 A Day program.
Mandurah (Bill Bowler) Skate Park and Koolaanga Waabiny Playground
As far as public open spaces go, Mandurah has truly levelled up in the past couple of years with the expansion of their popular skate park, and the completion of the spectacular Koolaanga Waabiny Playground next door. Both are part of the $22m Mandurah Waterfront Project, with the skate park now featuring a massive new competition bowl, with three zones suitable for all levels.
Meanwhile its new neighbour boasts a 12m high play tower, swinging and climbing zones, slides, shaded cubby pods, music play zones, balancing logs, a spinning carousel and even a human hamster wheel. You won't be able to drag your little ones away.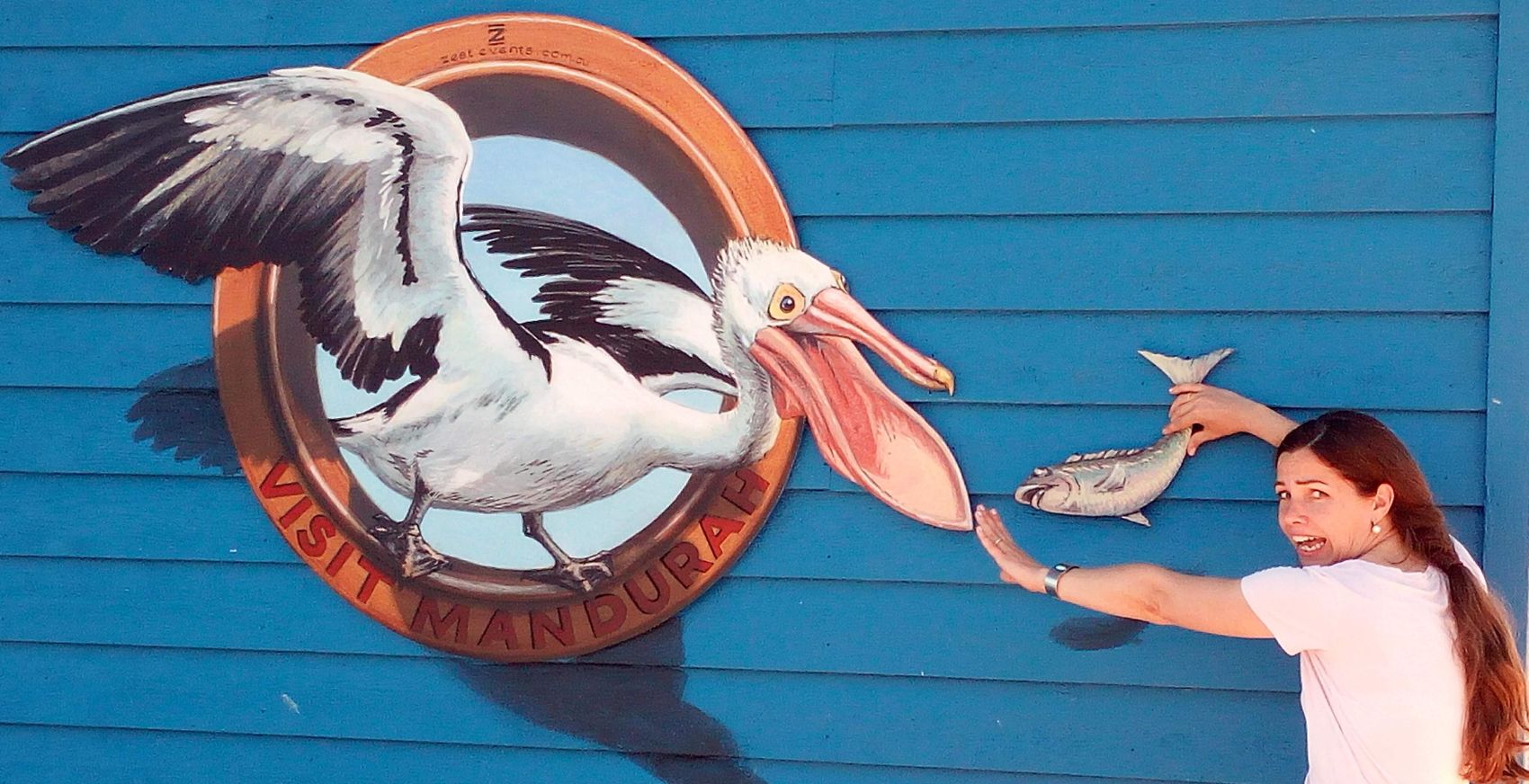 Even if the rain is pouring outside, the fun in Mandurah won't stop. Check out these family-friendly indoor activities.
Book your epic escape room adventure with Escape Squad. There are three rooms to choose from ranging in difficulty from easy to medium and hard.
Mandurah Indoor Rock Climbing Centre
Get a grip at Mandurah Indoor Rock Climbing where you'll find many challenges including 40 top ropes, great bouldering cave, slack line, climbing club, circus and aerial classes. It's a great way for your kids to burn some energy, all while having fun in a safe and friendly environment.
Check out Mandurah Indoor Rock Climbing's April school holiday workshops. Your small and teenage kids will love them!
Flip Out Trampoline Park
This trampoline park is the ideal indoor activity in Mandurah. Bounce, jump and leap for joy with the family in this massive arena. Who can say no to a trampoline park? Find out more here.
Inflatable World
Another amusing indoor activity in Mandurah is one of Australia's biggest indoor inflatable playgrounds. This family-friendly attraction will surely get the adrenaline rushing! Tickets are sold on the spot. Find out more here.
Take a look at some of our best picks