Get the ultimate
bird's eye view
Feel the ultimate rush with a skydive or scenic flight and tick this experience off your Mandurah bucket list.
Experience the thrill of a lifetime that you will never forget.
Book a Mandurah beach or Pinjarra tandem sky dive with WA Skydiving Academy. They offer jumps of up to 15,000ft – the absolute highest you can go in Australia, with at least 67 seconds of freefall.
A tandem skydive is by far the most popular method of entering into the world of skydiving. It only requires a 20 minute brief by one of WA Skydiving Academy's highly experienced Tandem Masters before having a harness fitted snugly and venturing off to the plane. Enjoy the ride up in the aircraft before exiting at an altitude of your choice whilst securely attached to your Tandem Master. 
Experience the sensation of freefall, let your instructor do all the work as you travel at more than 200 km/hr through the air. Once under parachute take the opportunity to learn some aerial skills, or to simply lay back, enjoy the view, feel the wind and savour the exhilarating taste of adrenalin as you get flown back down to earth. Even the faint hearted have no excuse.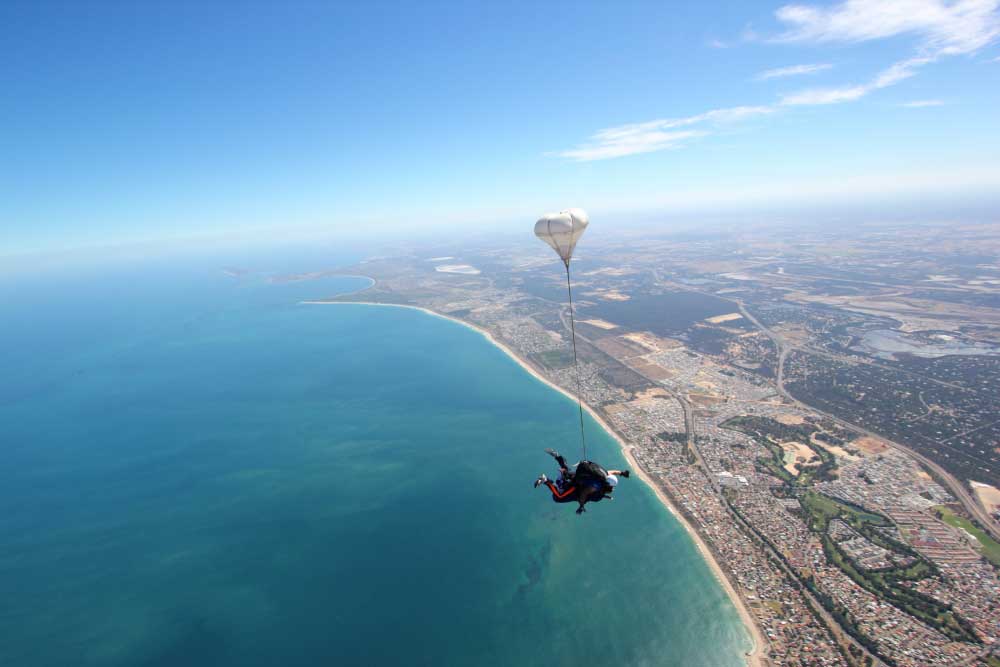 With Skydive Rockingham, you'll enjoy the ultimate thrill with spectacular views on the way down before coming in to your beach landing. With a range of tandem skydives, experiences for you and your plus one to do together and even a proposal package, you'll find the perfect skydive in Rockingham for you!
Exit the plane from up to 15,000 feet for an insane 60 seconds of life-changing freefall.
Float under canopy for 5-7 minutes with spectacular views of the beautiful Shoalwater Islands Marine Park including Penguin Island, Cockburn Sound, Garden Island and all the way out to Rottnest Island. Plus relive the thrill with our awesome skydiving video and photo packages.
Discover a hidden gem of Mandurah and the Peel Region when you fly with Royal Aero Club of WA at Murrayfield Aerodrome. Located 15 minutes from the heart of Mandurah, Murrayfield boasts a recreational flying atmosphere and guarantees the best views of Mandurah and the Peel Region. Get the ultimate bird's eye view on one of their Mandurah Scenic Flights for up to 3 people and let their knowledgeable pilots point out the local landmarks and places not to miss.
Take a look at some of our best picks