Discover a palette of experiences
Love to paint? Why not take it 'plein air'!
French for open air, 'plein air' painting is all about capturing the spirit and essence of a landscape or subject outdoors. And that's exactly what the Plein Air Down Under Outdoor Painting Festival sets out to do.
Western Australia's largest outdoor painting festival returns this year during the September long weekend (23-25 September), providing a unique opportunity for artists to share their love of painting outdoors amongst the magnificent surrounds of Mandurah's town centre, cultural precinct and the historic town of Pinjarra.
But you don't have to be a Vincent Van Gogh to enjoy what's on offer. Whatever your age or level of artistic skills – there's something for everyone – spectators and art collectors alike.
What's on at the festival hub
The Mandurah Performing Arts Centre is where it all comes together. It's where you can view exhibited works, sign up for workshops, watch various painting demonstrations with guest artists and in the evening, switch off and kick back with live music.
On Saturday 23rd September, the Lotterywest Demo Zone on the Eastern Foreshore will also be buzzing with a series of free hands-on painting demonstrations. Never tried painting with watercolours? See how easy it is to get started with award-winning artist Amanda Brett.
Be sure to check out the full line-up of free events across the weekend.
Want to register as an artist?
All artists who register to paint at the Plein Air Down Under Outdoor Painting Festival can enter two paintings into the exhibition to be held at Mandurah Performing Arts Centre. Judges will be awarding artwork across various categories and there's a prize pool of over $12,000 up for grabs.
There's artwork to inspire you everywhere you go
Wherever you go in Mandurah, you'll be immersed in the arts. Continuing outdoors, you'll stumble upon some of the most creative artworks along Mandurah's Instagram Trail. 
Thomas Dambo's famous Giants are still calling Mandurah home, and with the mild weather in play, it's the perfect opportunity to head further out and explore the Giants of Mandurah. 
Visit the Mandurah Visitor Centre to get started, choose the Giants you'd like to visit and embark on your self-guided expedition. Don't forget to check out the amazing 'Welcome to Country' mural by artists Peta & Corey Ugle and the 3D Augmented Reality experience that brings the artwork to life by telling the Aboriginal creation story of Mandurah's vast waterways.
Where to venture beyond the festival
When you feel like taking a break from all the action on land, change up the scenery and hit the open water. If you'd like to see dolphins in the wild and up close, jump on a boat tour or cruise through Mandurah's waterways and estuaries. It's home to more than 100 Indo-Pacific Bottlenose dolphins – the largest population in WA. And if you're exploring with little feet in tow, the Pirate Ship Mandurah is an absolute must! 
For more ideas on where to go and what to do, check out our top 10 things to do in Mandurah.
Explore a different kind of palate
When you've run your paint palette dry and worked up an appetite, there's no shortage of places to eat in Mandurah. Our top picks include breakfast at Wood and Stone Café, a relaxing lunch that lingers into the afternoon at Boundary Island Brewery and a dinner to share at Flics Kitchen.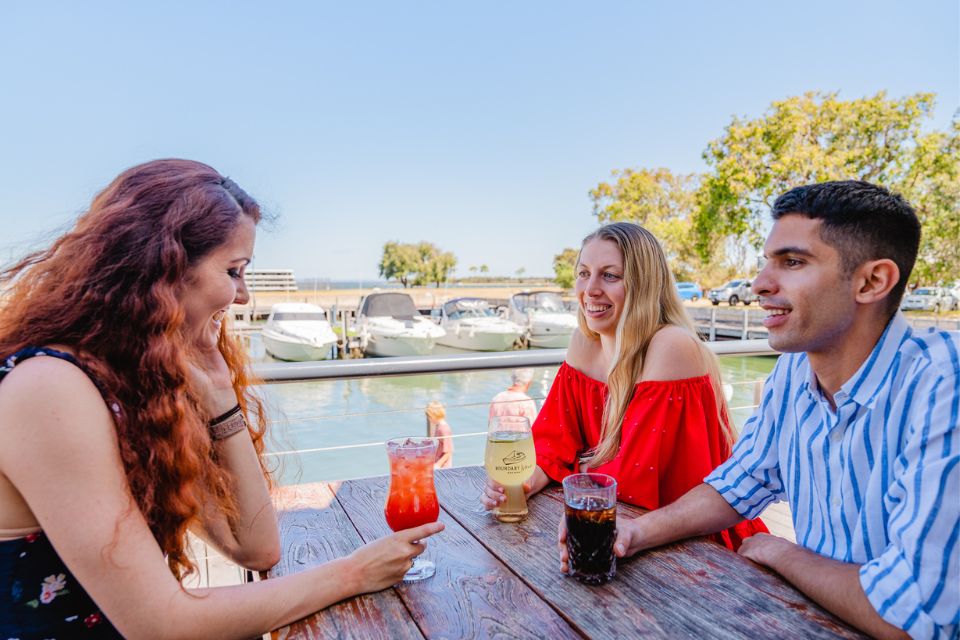 Where to stay in Mandurah