Culinary Tours
& Experiences
Indulge your taste buds by experiencing Mandurah's and the region's culinary delights.
Mandurah Cruises
Go on a gourmet adventure on Mandurah's waterways. This is the ideal spot to pair an iconic Mandurah experience with your favourite way of dining.
For a once in a lifetime culinary adventure, catch and eat Western rock lobster (crayfish) in the freshest possible way on a Wild Seafood Experience tour with Mandurah Cruises.
Journeying out to the Indian Ocean, help haul in crayfish pots, before enjoying the rewards of your labour with a delicious barbecue lunch with local wines, served on board as you cruise the calm estuary waters.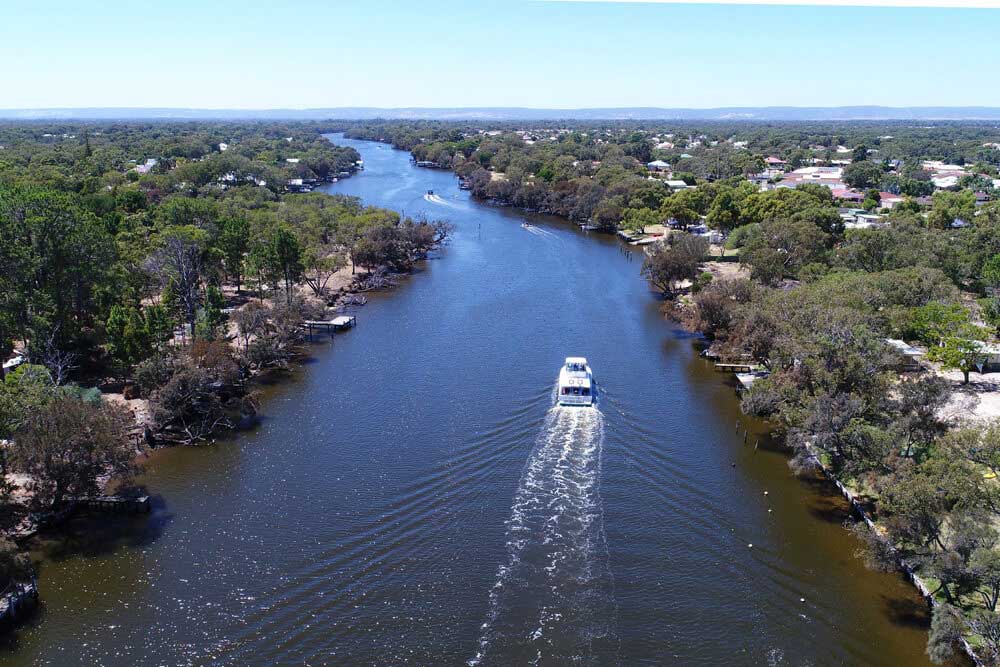 Fancy a tea at sea? Mandurah Cruises also run a High Tea Cruise (seasonal), a relaxing 2-hour tour through the Mandurah canals with a complimentary glass of bubbles and unlimited tea or coffee while admiring the stunning views and greeting the friendly bottlenose dolphin population.
Kaleidoscope Tours
Kaleidoscope Tours will ensure you discover the best of the region's fabulous wineries, breweries and wonderful experiences.
The award-winning tour company is offering a variety of  day tours including the:
5 Giants of Mandurah tour
Underground Wine Cellar & Charcuterie tour
Taste of Italy Winery experiences
Brewery tour
Ferguson Valley tour
Cruise & Lunch
Sip & Paint & High Tea experiences
Find out more about the tours here.
Enjoy a fun-filled day with a comfortable scenic drive to a variety of awesome venues and inclusions (depending on the tour), for example high teas, wine and beer tastings antiques, collectables, prehistoric sights, art galleries, crafts, 3-course lunch with matching wines etc.
Tours are available for a couple, large or small groups and families. There are also Hens and Bucks Tours available.
Enjoy a memorable day with your partner or a group. Each tour is private and Paula is looking forward to creating an awesome day for you.
Call Paula for ideas on how to arrange a customised tour of your choice.
Pick-up and drop off in Mandurah.
Eco BBQ Boats
With Eco BBQ Boats you can enjoy 360 views while dining on the water. Guide you and your friends around Mandurah's calm waterways on a 6- or 10-seater circular boat while cooking a barbecue on board.
Being electric, the boats are fume-free and whisper quiet, respecting Mandurah's precious marine world and wildlife.
Luxury Boutique Boat Charters
Luxury Boutique Boat Charters Mandurah offer unique, personalised and intimate chartered experiences on the beautiful Murray River for a minimum of 2 guests and a maximum of 4 guests.  If you book, you'll have the skippered boat to yourself.
Luxury Boutique Boat Charters Mandurah offer 3 cruises per day. Choose from the Breakfast & Birdsong Cruise or their Bubbles & Grazing Board Cruise or their signature cruise,  the Sunset & Tapas Cruise. Check out all cruises here.
From the moment your skipper welcomes you aboard, all  you have to do is relax and enjoy!
All cruises are 2 hours in duration and are inclusive of food.
Peel Craft Peel & Wine Trail
Discover our take on unique craft beers and boutique wines with the self-guided Peel Region Craft Beer and Wine Trail. Featuring nine of the region's best beer and wine offerings, the trail provides an authentically local experience, to be enjoyed at your own pace.
Take a look at some of our best picks