Weekend getaways with the kids in Mandurah
A weekend getaway should be relaxing, right? After the long arduous car ride, bickering in the back seat, restless toddlers and constant squawks of 'are we there yet' sometimes it's anything but.
An easy hour's drive from Perth changes all that.  Mandurah is one of the most popular year-round destinations for weekend getaways in WA. Whether it's on land or water, action-packed adventure or peaceful respite, there's much fun in the sun to be had for everyone. 
We've hand picked some of our favourite things to do, to help you plan your next weekender with the fam in our relaxed part of the Peel.
Family-friendly places to stay
Where to set up base for your seaside adventures? Having enough space is always a factor when holidaying as a family, but the good thing is there are many different spacious accommodation options to choose from.
If you're after self-contained apartment style rooms, book your stay at Seashells. With its beachfront location, infinity pool, tennis court and free in-house movies, you'll be perfectly relaxed for the weekend ahead.
Prefer to stay by the canals? Then head to C Mandurah Resort with your choice of 1,2 or 3 bedroom serviced apartments.
The modern family chalets at Marina Chalets are close to everything – just a five minute walk to the foreshore. And your front door is only 50 metres away from a child-friendly beach and playground. 
Love to caravan or camp? Then secure your powered spot at Mandurah Coastal Holiday Park. The park is located right in the city centre and close to Town Beach. Or book into Mandurah Caravan & Tourist Park , a 4 star family tourist park on the outskirts of Mandurah.
Before you check-in to your accommodation, stretch your legs and refuel at the newest kid on the block, Boundary Island Brewery overlooking – you guessed it – Boundary Island. 
The beer is brewed right here on the waterfront, so it doesn't get any more local than this! The kids will love the unique playground featuring Esmeralda – the spirit of Boundary Island. Oh and did we mention the food and service is amazing? 
P.S Dogs are welcome!
If you don't plan to spend the whole afternoon at the brewery (we wouldn't hold you back if you did), then it's time to get adventurous with the kids. Jump aboard the iconic Pirate Ship Mandurah for a unique cruise through Mandurah's dolphin highway and gorgeous marinas. You never know what underwater creatures you might spot!
If your sea legs aren't up for it, grab a map from the Mandurah Visitor Centre and follow the Instagram Trail where you can spot amazing 3D art along the way – definitely worthy of a few selfies and family snaps.
If the kids love to skate head to the newly developed Mandurah Skate Park – designed by skaters for skaters. It includes 3 skate zones for varying skills levels and it's also great for BMX and scooters. You can find the skate park along the western foreshore.
After all of this fresh air, the kids are sure to build up an appetite. Swing by Mandurah's Ocean Marina to grab some fish and chips for dinner, then set up a picnic at Town Beach for the best sunset views. It's the perfect place to unwind after a fun-filled start to the weekend.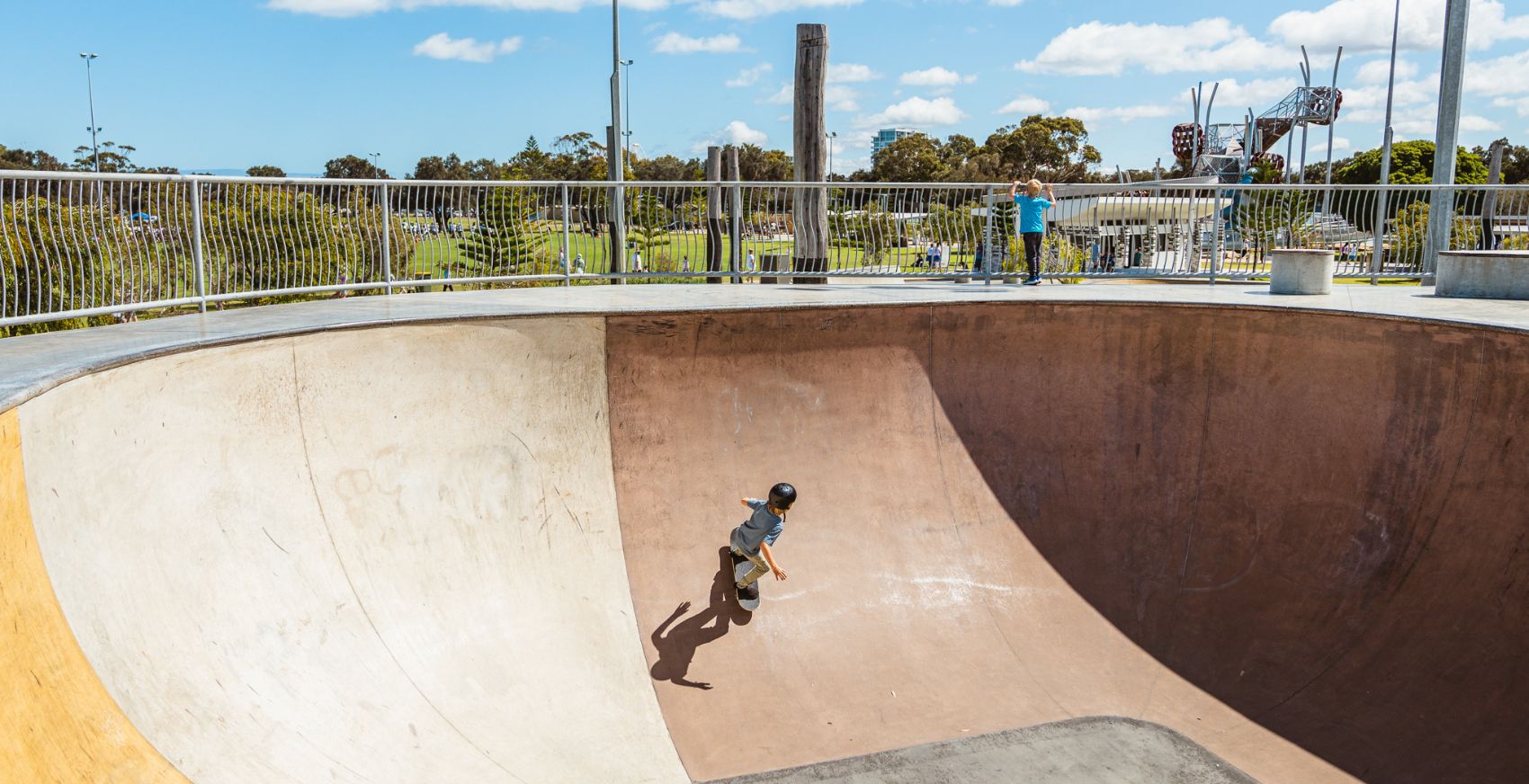 Where to eat and explore: Day 2
Start your day off on the right foot with a wholesome breakfast at one of Mandurah's many delicious cafes along the foreshore or ocean marina. Depending on where you're staying, our top picks include Café Moka along the marina, The Hummingbird and its sister café, The Hummingbird Plant Based or Wood & Stone Cafe on Mandurah Terrace and The Bay Café by the estuary.
View this post on Instagram
Mandurah is full of natural marvels and the best way to experience it on land is along one of the many family-friendly cycle paths. Choose the coast or the forest and start exploring! No need to tow bikes either, just pop into The Bike Kiosk at the Mandurah Visitor Centre to rent some e-bikes and a kids trailer.
If you're travelling with little people, treat them to a train ride around town on the Tourist Fun Train followed up by a visit to Amaze Miniature Park. Here the kiddies can explore 70 lifelike miniature buildings and interactive model trains, play a round of mini golf, wind their way around the hedge maze and run-a-muck in the playground.
Heading in by 4WD? Then make sure you pack your fishing rods on this trip and sneak in a session at Tims Thicket Beach – the closest 4WD beach south of Perth. With perfect weather year-round there's no reason not to!
Make sure to check out what's on while you're here to keep you entertained during your weekend away.
weekend getaway inspiration
TAKE A LOOK AT SOME OF OUR BEST WEEKEND GETAWAY PICKS