Discover our
Parks & Playgrounds
Here are our favourite playgrounds in Mandurah and surrounds. Check them out and let the kids run wild!
Koolaanga Waabiny Playground
Located on Mandurah's Western Foreshore, the Koolaanga Waabiny Playground (pronounced kool-lung-ga waa-bini) translates to children playing and also refers to the local Swamp Sheoak trees (Koolaanga).
The main feature of the playground is the Swamp Sheoak tree inspired 12m high climbing tower, which also features a 3-meter-long fully accessible ramp, speaking tubes from the top to the bottom, lookouts with binoculars, monkey bars, a small double slide, a fun spiral slide and so much more.
Koolaanga Waabiny Playground also features plenty of BBQs and seating and makes a great day out with all the family.
Don't forget to pack the kids' bikes, skateboards or scooter – the Mandurah Skate Park, designed for beginners to advanced users, is right next to the Koolaanga Waabiny Playground.
Click here for directions.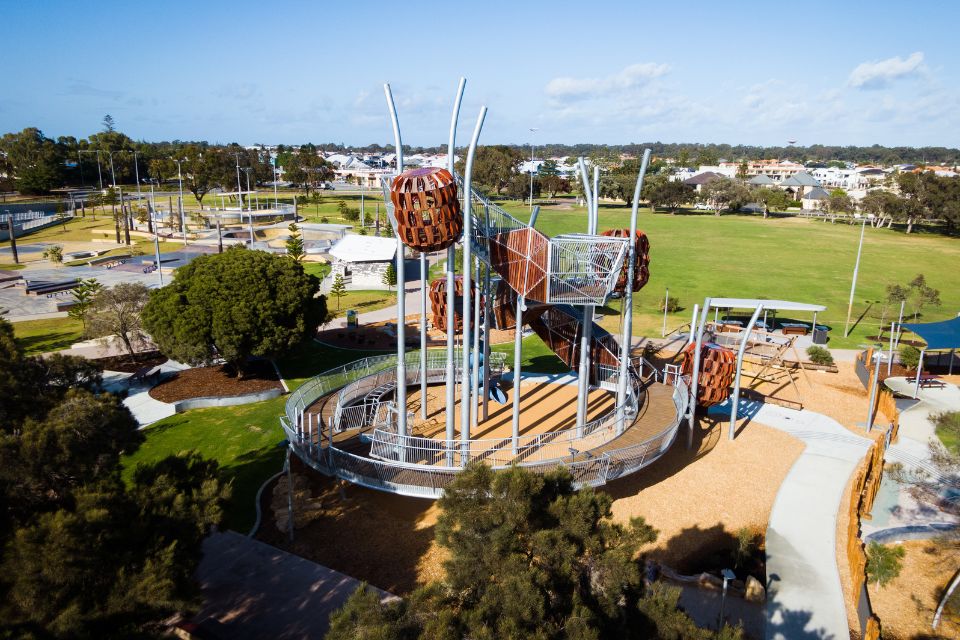 Mandurah Eastern Foreshore Playground
This lovely playground, located on Mandurah's Eastern Foreshore and overlooking Mandjar Bay, is fully shaded and based on a soft fall surface. 
There are many slides, ladders, climbing walls, tunnels and many other play items to entertain toddlers and older children alike. 
Kids particularly love the big yellow boat, rockers, monkey bars and swings. With beautiful views over the Estuary, BBQs, picnic spots, shade and local coffee, bars and restaurants parents will have a ball too. A great playground for the entire family.
Click here for directions.
Keith Holmes Reserve and Beach
Located off the Mandurah Quay Footbridge, this playground is overlooking the man-made beach at Mandurah's Ocean Marina making this a great little spot for family BBQs and picnics.
There are two adjacent play areas at Keith Holmes Reserve. One area is more suited to older kids whereas the second one is suitable to toddlers.
The little beach close by is ideal for kids to have a splash around as it's very shallow and there are no waves.
Click here for directions.
Osprey Waters Foreshore Playground
This big adventure and nature-based playground is located right on the water's edge and is the perfect place to play, picnic, barbecue and even to fish. If you are in Mandurah a visit to this playground is a must and our recommendation is you allocate at least a couple of hours to enjoy it.
Perfect for toddlers and pre-schoolers, nature play strongly features at this playground with balancing rocks amongst the bushes and a fun wooden rope maze under natural shade. The most popular feature of this playground is the nest cubby house.
There's also a small sandy beach, perfect for having a splash or throwing in a fishing line.
A cycle path / walk path runs along the length of the Erskine foreshore and through the playground area. Walk or cycle the foreshore and see Ospreys and their nests on the way. Ospreys (Pandion haliaetus) are fish eating birds of prey and known as the Guardians of the Estuary or Yoondoordo in Noongar language.
Click here for directions.
Novara Foreshore Playground
Located in Falcon, this Mandurah adventure playground has custom-built nature play features including a 6m high climbing structure, accessible swings and a Miram which is a skate-style play element for older children and youth. There is also various fitness equipment suitable for all ages.
Click here for directions.
Caterpillar Park Playground
The Caterpillar Park Playground is definitely one of the most popular playgrounds in Mandurah, not only because it's enclosed and safe but also because there's so much to do. 
There's several slides, swings, sensory play area, floor levelled merry go round, a nest swing and flying fox.
Surrounded by plenty of trees and sails, keeping the area shaded, this is not only a pleasant place for kids to play but also for families to enjoy a picnic or barbecue. There are separate undercover areas with benches, tables and BBQs.
Also known as Milgar Street Reserve, the Caterpillar Playground is easily accessible via Park Road with plenty of parking available. Be wary on weekends though, it is situated next door to the BMX track so it can be a little hard to find parking.
Click here for directions.
With a fantastic range of play equipment and different play areas, this playground is perfect for children of all ages.
There are huge climbing spider web nets, a long and steep slide, and other pieces of play equipment set all the way down the side of the quarry. If you have children who love to climb or love a challenge, they will just love this park. All the equipment is set on soft fall rubber. Off to the side, past some bushland is the amphitheatre, this area is grassed and offers a whole lot of fun for children too. The area is very shady thanks to the many trees there. 
Equipped with BBQs, picnic benches, toilets and water fountain, you can easily spend the whole day at Quarry Adventure Park enjoying a barbecue or picnic after play. 
Quarry Adventure Park in Meadow Springs is well worth a visit when you stay in Mandurah.
Click here for directions.
Adventurescape Playground
This farm-themed playground, located next to the two hectare lake in the Satterley Austin Lakes Estate in South Yunderup, will surely be a big hit with your children. 
The play area is dotted with small wooden farm animal play sculptures and features a huge 9-metre tall climbing windmill tower and slide, a large pig that is part cubby part slide, a 35-metre flying fox and old farm tractors that are half submerged in the sand. Other features include a custom rural style fence maze, a 3 metre spinning disk, a 5 way swing, a climbing net, balance pole bridge and see-saw.
The small lake which is located next to the playground is great for paddling in and has a small beach area with BBQs located close by.
Click here for directions.
Take a look at some of our best picks