Discover the Giants of Mandurah on a guided tour
Enjoy an active, fun-filled day on our guided tours of Thomas Dambo's amazing Giants.
If you prefer to have some company and a little help when going on your Giant hunt, you can choose from these great and fun tours.
The Bike Kiosk – Ride the Giants Tour
Go on a Ride the Giants Tour with The Bike Kiosk Mandurah. In a world-first experience, The Bike Kiosk invites you to come 'Ride The Giants' on their super smooth e-bikes. Cycle through the untouched ends of greater Mandurah where nature flourishes and behemoths protect the waterways.
Duration – 3.5 hrs
Cost: $85
Lunch provided
e-bike, helmet, sunscreen included
Minimum age: 16 years
Wed, Fri, Sat
Kaleidoscope Tours – Giants of Mandurah Tour
You'll visit 3 of the Giants on this tour which is popular with families, so round up the kids and adults and enjoy a magical day out.
Duration: 5 hrs
Cost: from $85 (adult)
Lunch provided at additional cost
1 booster seat and 1 baby seat available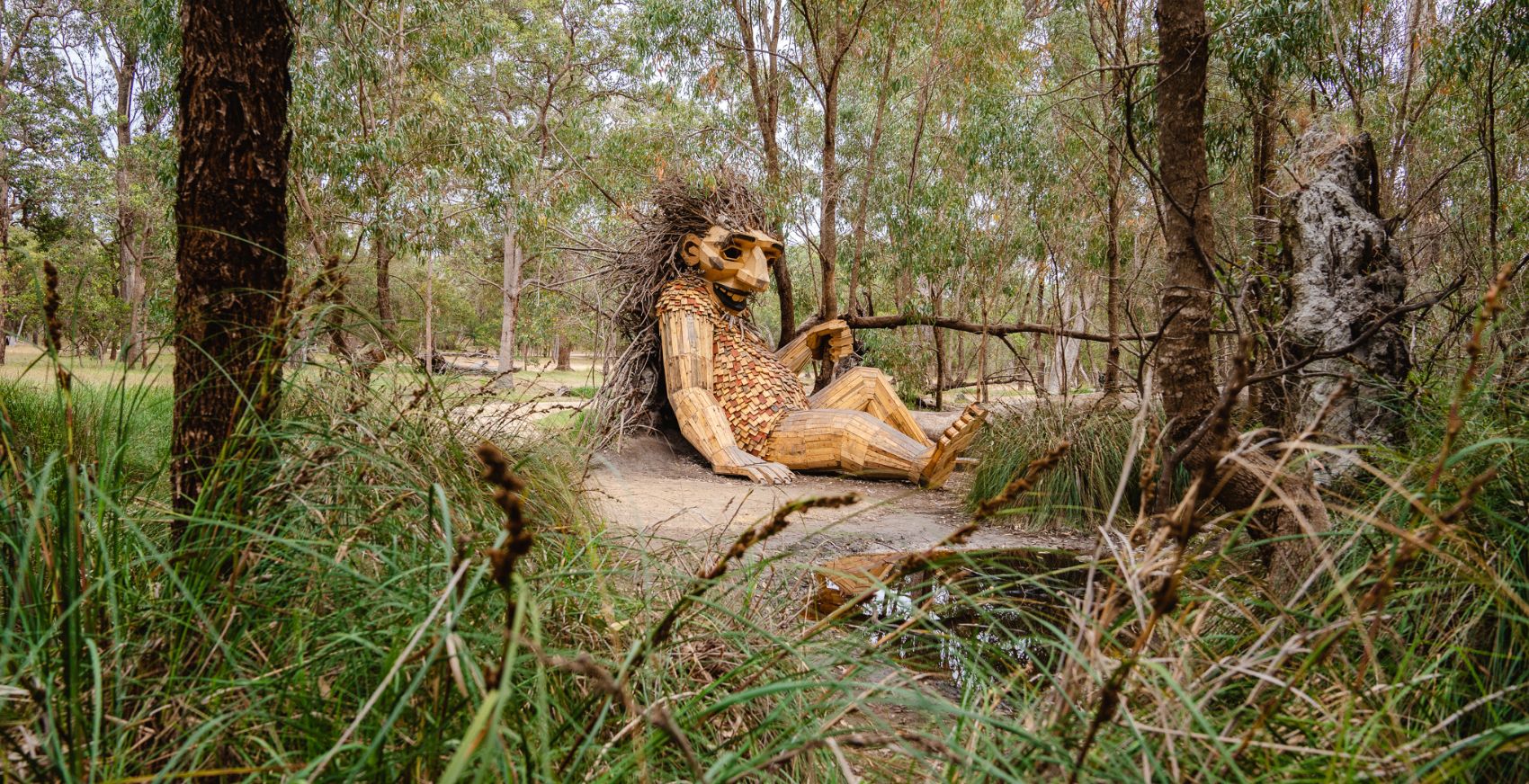 Giant & Dolphin Sightseeing Cruise
Journey into vast waterways to discover one of the most famous Giants of Mandurah, spotting wild dolphins and birdlife along the way.
Mandurah Cruises' Giant & Dolphin Sightseeing Cruise gives you exclusive, prime viewing of Thomas Dambo's Giant 'Seba's Song' located on the water's edge ~ visible in full only by boat.
Duration: 2. hours 15 minutes
Cost: from $49 (adult)
Saturdays, 11.15am departure
Zion Coach Services – Giants of Mandurah Bus Tour
The 6-hour long tour by Zion Coach Services explores all 4 Peel Giants (including the Secret Giant) and includes a stopover at the delicious Cafe Coast in Wannanup (Tuesdays only) or Thorny Devil Brewery in Lake Clifton (all other days) where you have the option of purchasing lunch at an additional cost.
Duration: 6 hours
Cost: from $60 (adult)
Departure dates: 26th January 2023 and then every third Thursday of each month
Ready2roll Charters – Giants of Mandurah Discovery Tours
Join Ready2Roll Charters either on their 6-hour tour visiting 4 of the Giants of Mandurah or on their 4-hour tour visiting 3 of the Giants of Mandurah.
Tour lunch menu is available on the day at your own cost.
Duration: 4-hour tour or 6-hour tour
Cost: from $70 (adult) – $100 (adult)
TAKE A LOOK AT SOME OF OUR BEST PICKS