Spring into Adventure this School Holiday Season in Mandurah!
Give your kids the opportunity to make new friends, learn new skills and have adventures over the school holidays.
Looking for an exciting way to keep your kids entertained during the Spring school holidays? Look no further than Mandurah and the beautiful Peel region, where a world of fun and adventure awaits.
Giants of Mandurah
Prepare to be amazed by the Giants of Mandurah, a remarkable series of larger-than-life wooden sculptures created by the renowned artist Thomas Dambo. These incredible sculptures have found their home in secret and picturesque locations scattered throughout Mandurah. The best part? This outdoor exhibition is completely free to enjoy!
If you'd like some company and a bit of guidance on your Giant hunt, consider booking a guided Giant tour. There are guided e-bike, boat, and coach tours available to choose from.
Cruise into fun with the kids
Exploring Mandurah is incomplete without embarking on a boat cruise. Join a cruise with Mandurah Cruises and dive into the world of marine wonders.
Take your family on a thrilling adventure as you meet Mandurah's playful wild dolphins, spot pelicans, ospreys, and swans in the wetlands, and explore the city's enchanting canals and marina. Kids can even help steer the ship from the junior captain's helm, while adults can enjoy complimentary coffee and tea.
The Dolphin Cruise & Views sets sail daily at 11:30 am and 1:30 pm, with family passes priced at just $79. Plus, there's a guarantee: if you don't spot a dolphin on your trip, you can come back anytime in the next year for free!
Pirate Adventures Ahoy!
Arr, matey! Did you ever think you'd find pirates in Mandurah? Join 'Pete Blackbeard' and his merry crew at Pirate Ship Mandurah for a fantastic day on the high seas. This open-air vessel allows kids to dress as pirates, steer the ship, ring the bell, and peer through telescopes for an unforgettable pirate role-playing experience.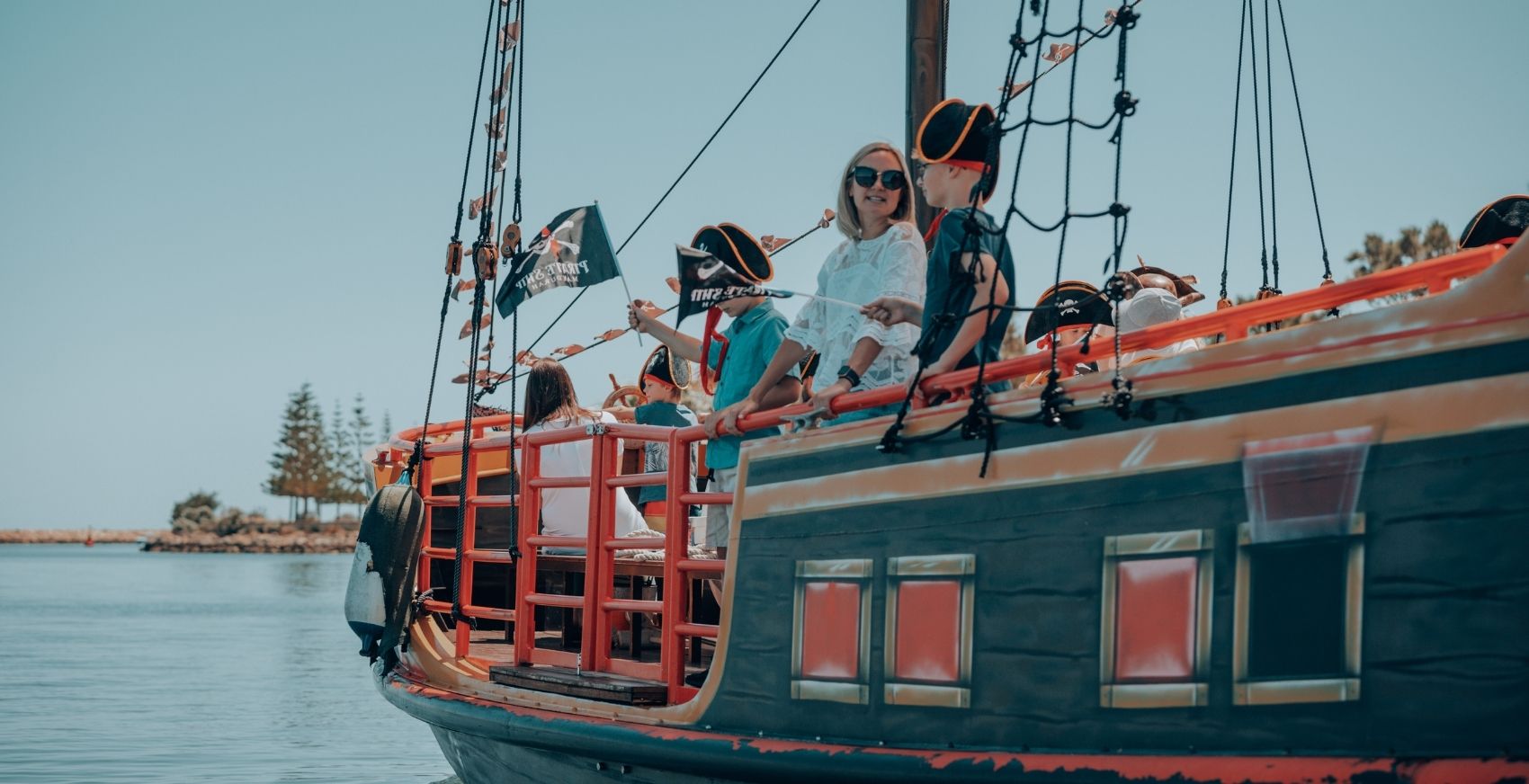 Splash & Cruise
The whole family will have a blast on this relaxed 2-hour cruise with Soulmate Charters, where you can explore Mandurah's scenic waterways and even take a dip or lounge on a blow-up float. Try your hand at stand-up paddleboarding or simply relax and unwind.
Float your boat in Mandurah
Mandurah is best explored by boat, and even if you don't have your own, you can easily rent one. Alternatively, you can explore at a more leisurely pace on a paddleboard or kayak. Mandurah offers excellent cycle paths around the city center, marina, and coastline.
Or dip your toes in Mandurah's magnificent new estuary pool on a sunny day, any time of the year. Named Kwillena (dolphin) Gabi (waters) by the traditional owners of Bindjareb Boodja, this natural waterway shares its habitat with local marine life.
Delight in Miniature Marvels
Captivate the imagination of young and old alike with a visit to Amaze Miniature Park, where you'll discover 70 adorable miniature buildings and model trains. Set amidst four acres of beautifully manicured gardens, the park also features mini-golf, a hedge maze, and a playground.
All aborad the Tourist Fun Train
Hop on board Mini Toot, the friendly miniature train that runs along Mandurah's Eastern Foreshore. Or embark on the Big Toot, a hop-on/hop-off tour suitable for all ages. These charming trains are operated by the Mandurah Tourist Fun Train Company and offer a fun way to explore Mandurah. Tickets are available at the Mandurah Visitor Centre or when boarding the train.
Explore on an e-scooter or e-bike
For an exhilarating way to explore the beauty of Mandurah with your kids, look no further than our fantastic biking options. Mandurah boasts excellent cycle paths winding through the city center, marina, and along the stunning coastline. And here's the best part: you can enjoy a seamless and effortless journey with e-bikes and e-scooters available at The Bike Kiosk, conveniently located next to the Mandurah Visitor Centre.
But the adventure doesn't stop there! Venture into the lush surroundings with family-friendly forest cycle trails scattered throughout the region. And for the daring explorers, the renowned Munda Biddi Trail, a world-class off-road cycling track, beckons from Dwellingup.
Adventure Awaits at Mandurah (Bill Bowler) Skate Park and Koolaanga Waabiny Playground
Mandurah's public spaces have received a major upgrade in recent years, including the expansion of the popular skate park and the completion of the spectacular Koolaanga Waabiny Playground next door. The skate park now boasts a massive new competition bowl with three zones suitable for all skill levels.
Next door, the Koolaanga Waabiny Playground features a 12-meter high play tower, swinging and climbing zones, slides, shaded cubby pods, music play areas, balancing logs, a spinning carousel, and even a human hamster wheel. Your little ones won't want to leave!
Mandurah Instagram Trail
Uncover Mandurah's most Instagram-worthy spots and capture fantastic photos while strolling along the Mandurah Instagram Trail.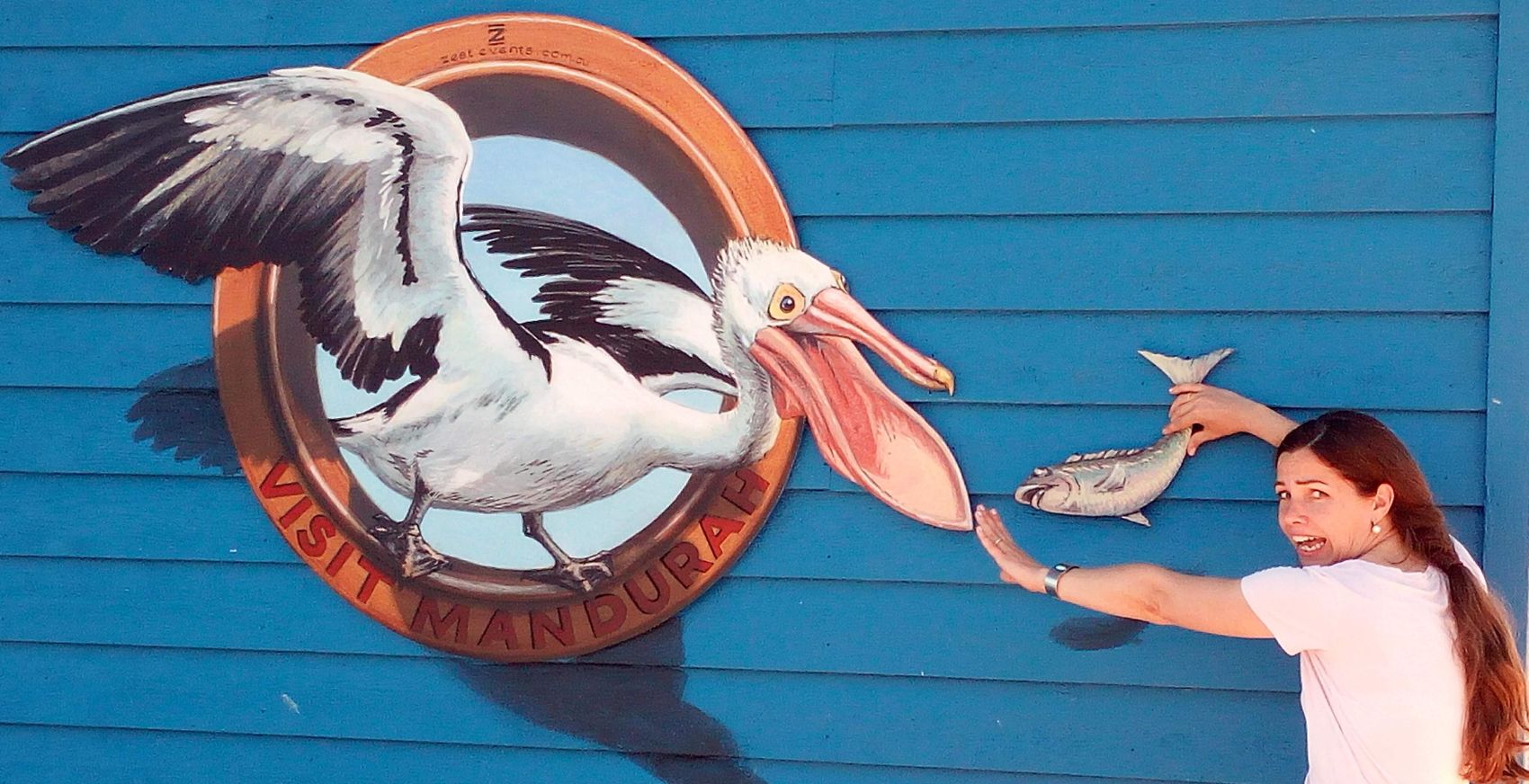 Be a zookeeper for a day
Is your child a wildlife enthusiast? Fantastic! They can become professional zookeepers for a day at Ranger Red's Zoo, where they'll have the opportunity to handle and feed over 100 species of birds and animals. Get up close to Tasmanian Devils, koalas, kangaroos, snakes, ferrets, lizards, and various bird species. Learn more about the Zookeeper 4 A Day program.
Even if the rain is pouring outside, the fun in Mandurah won't stop. Check out these family-friendly indoor activities.
Dolphin Talk at Mandurah Visitor Centre
Free interactive school holiday activity at Mandurah Visitor Centre on Wednesday, 27th September and 4th October:
Learn all about Mandurah's marine wonders with special guest Dudley the Dolphin, led by Estuary Guardians & Mandurah Cruises experts. Book your spot here.
Book an epic escape room adventure with Escape Squad. Choose from three rooms with varying levels of difficulty, from easy to medium and hard.
Mandurah Indoor Rock Climbing Centre
Challenge your family's climbing skills at Mandurah Indoor Rock Climbing, featuring 40 top ropes, a fantastic bouldering cave, slack lines, a climbing club, circus and aerial classes. It's a fantastic way for kids to burn off energy while having a blast in a safe and friendly environment.
Check out Mandurah Indoor Rock Climbing Centre's school holiday program and workshops here.
Bounce into Fun at Flip Out Trampoline Park
Flip Out Trampoline Park offers the ideal indoor activity in Mandurah. Bounce, jump, and leap for joy with your family in this massive trampoline arena. Who can resist the allure of a trampoline park? Find out more here.
Inflatable World
Another amusing indoor activity in Mandurah is one of Australia's biggest indoor inflatable playgrounds. This family-friendly attraction will surely get the adrenaline rushing! Tickets are sold on the spot. Find out more here.
Take a look at some of our best picks